Prindor and its advantages
Prindor represents a competitive advantage for anyone who uses it for its printed materials. It is a bonus for packaging, labels, magazines, or catalogs and other printed materials.
| | |
| --- | --- |
| | New possibilities of printing with Prindor |
Prindor can do the so far impossible
Prindor can create effects which have been, to date, impossible in printing. Cold application of foil allows achieving high precision, which is necessary when printing small details. There is no danger of substrate deformation due to high temperature, pressure, and humidity.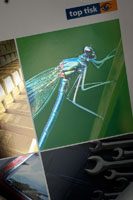 Space for creativity
The Prindor technology can use foils of various colors and effects, for example, holographic or with various structure of surface. It only depends on the client's requirements and the abilities and creativity of the graphic designers.
Diversification from competition
Prindor represents a new dimension of printing. High precision and fine elaboration of details allow highlighting the smallest details. The technology can be applied to material within 0,04 až 1 mm, which allows enhancing packaging, catalogs, labels, and other printed materials on client's request.
| | |
| --- | --- |
| | Economical advantages |
Cold stamping using Prindor technology can, under certain circumstances, save funds. There are no initial costs for production of expensive printing blocks, a common print mold. is sufficient. The preparation times are substantially shorter; you only need tens of minutes, unlike a few hours in the case of hot stamping. Prindor creates rich and finely elaborated effects. The print is more attractive and effective than when using other technologies. The savings will be obvious, especially in the case of more elaborate applications.